LAWATAN INDUSTRI (CONTINENTAL)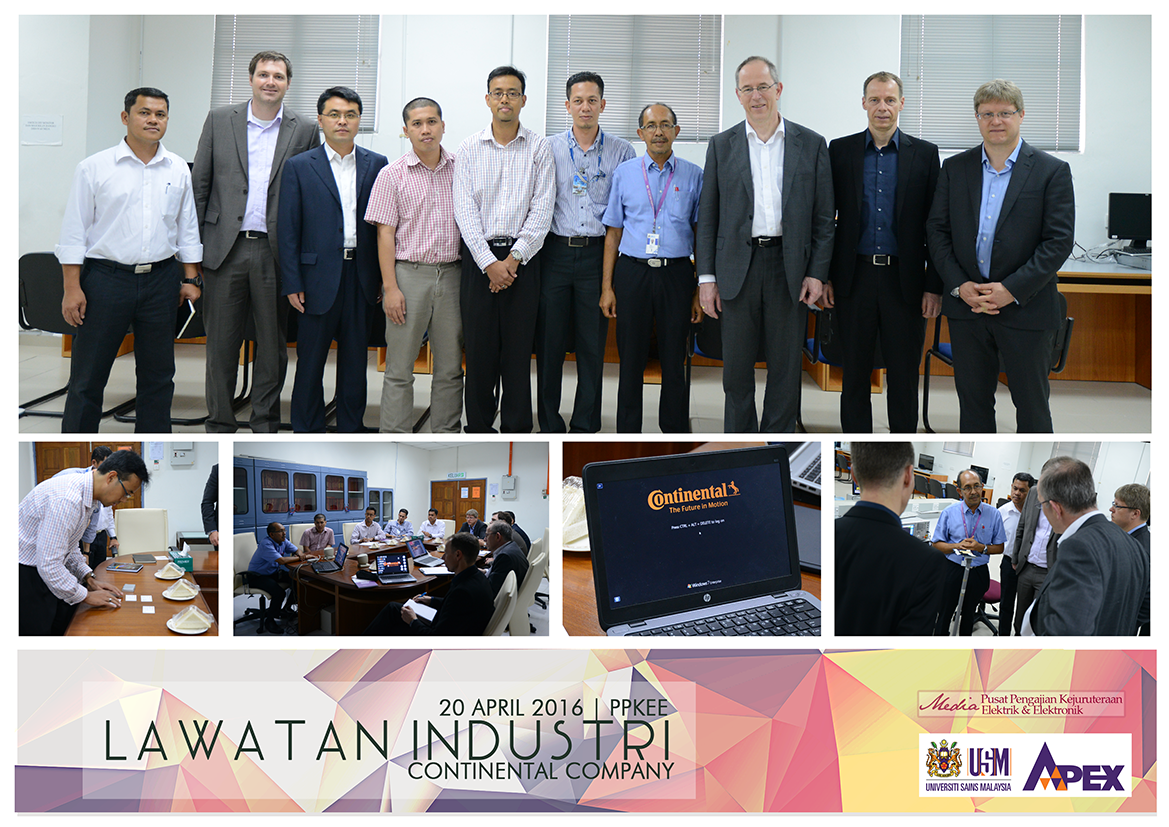 On the 20th of April 2016 (GMT+8: 1350), Continental AG visited the School of Electrical and Electronics Engineering, Universiti Sains Malaysia Nibong Tebal for a discussion on resource capability of the School that can support Continental in the coming future.
The Continental AG delegates comprised of Mr. Hubertus Schweins from Business Unit Technology Research or BU TR of Continental AG(Head R&D asia for Transmission based at Nuremburg, Germany), Mr Joachim Nell(Head of Global R&D corporate based at Frankfurt, Germany), Mr Zhang Yanfeng(Head of Controlling Asia based at Shanghai), Mr Kai Mueller (Head Strategy and Development based at Germany), Mr Joerg Laatsch (Vice President of Power Train ASEAN based at Bangkok), Mr Azizan Mahamud (Assistant Manager for Sales) and Mr. Noor Hafizi Hanafi(R&D manager) both are based at Continental Automotive Components, Penang Prai, Malaysia respectively. The delegates were welcomed by Prof. Dr. Mohd Fadzil Ain(School's Deputy Dean of Research and Industrial network), Assoc. Prof. Dr. Bakhtiar Affendi Rosdi(Electronics Engineering Programme Chairman), and Dr. Muhammad Nasiruddin Mahyuddin.
The visit was preceded by an 1 hour and 15 minutes discussion at the Dean's Meeting room exchanging introduction on the School's Engineering Programme, statistics of (UG/PG)students intake, research capability, products, industrial linkages etc as well as the Company's business unit and research direction in automotive. After the discussion, the delegates were invited to go for short lab visit, visiting Mechatronics Lab and Communication lab. The delegates were also briefed on the current progress of collaborative Project between School of Electrical and Electronics, Universiti Sains Malaysia and Continental Automotive Components Malaysia Sdn Bhd funded by CREST whose project research team comprised of Dr. Muhammad Nasiruddin Mahyuddin, Assoc. Prof. Dr. Bakhtiar Affendi Rosdi and Assoc. Prof. Dr. Dahaman Ishak and Mr. Noor Hafizi Hanafi(R&D Continental)). The delegates adjourned the visit at hour 1605 and headed for Penang International Airport. Courtesy notes: Under the supervision of Mr. Mohd Nadzri Mamat, multimedia presentation about the School was prepared by the School's multimedia unit (Mr. Latiff Tawabb and Mr. Ahmad Ahzam) and the lab visit was prepared by the fellow technicians(Mr. Aswadi, Mr. Latip, Mrs. Zammira).