Announcement to International Students Travelling Back to Malaysia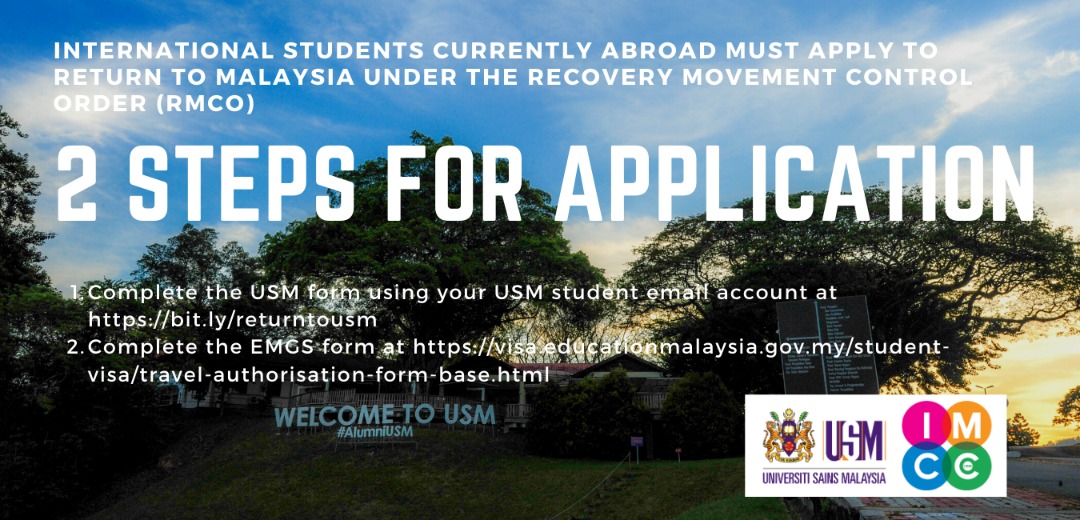 Attention to International Students Who are Currently Abroad and Planning to Return to Malaysia. Pursuant to the recent announcement by the Malaysia Government on returning to Malaysia during the Recovery Movement Control Order (RMCO), USM active international students need to apply by following these steps:
1. Complete the USM form using your USM student email account at https://bit.ly/returntousm
2. Complete the EMGS form at https://visa.educationmalaysia.gov.my/student-visa/travel-authorisation-form-base.html
Please read the forms thoroughly before submitting your application. Only USM student visa/pass holders are allowed to apply. Dependents may NOT travel along during this time.
Check the latest Standard Operating Procedure (SOP), guidelines and information at the EMGS website link here: https://educationmalaysia.gov.my/news_update/standard-operating-procedures-during-and-after-covid-19-pandemic-movement-control-order/
Should you require further information, please contact any member of the USM International Students Society (USMi) Exco. We wish you a safe travel and journey. Take care and be safe.
Kind regards, IMCC USM