Poem Writing Competition 2020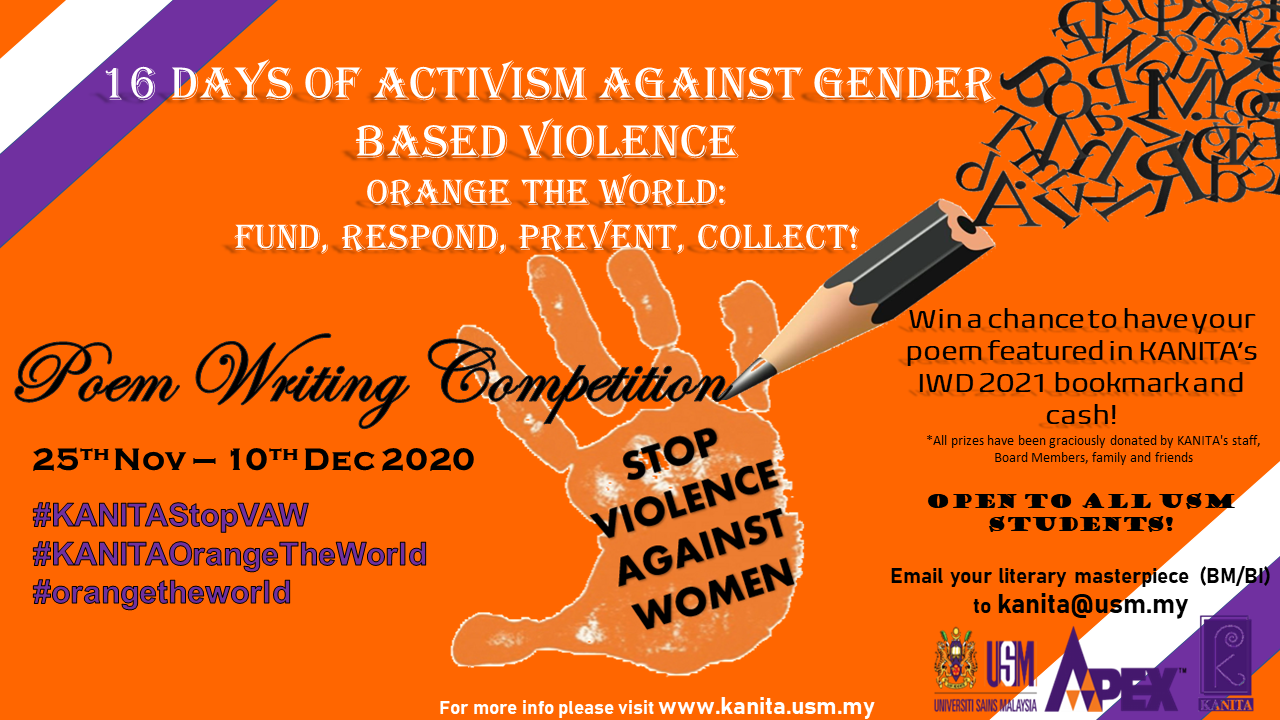 Rules and Regulations for Poem Writing Competition 2020
Rules: General
The competition is open to all USM students.
The closing date of the competition is midnight, 10 December 2020.
There is no limit on the number of entries a single entrant can make. All entries will be considered anonymously by the judges.
Entries will not be returned, so please keep a copy.
No alterations can be made to poems once sent under no circumstances.
A confirmation of receipt will be sent upon submission.
The competition organisers reserve the right to change the judging panel without notice or not to award prizes if, in the judges' opinions, such an action is justified.
The judges read all the entries; their decision is final. Neither the judges nor KANITA staff will enter into any correspondences.
Rules: Poems
All entries are judged anonymously and the poet's name must not appear on the poem itself.
All poems must have a title and must not exceed 40 lines in length(excluding title). Entries must adhere to the theme "Orange the World: Fund, Respond, Prevent, Collect!"
Together with the entry submission, the author must provide name, contact number, matrix number.
Poems must be the entrant's original work.
Entries must not have been published, self-published, published on a website or made public on social media, broadcast or featured among the winners in another competition.
Rules: Winners
Prize winners will be notified by the end of December 2020 and invited to KANITA's International Women's Day 2021 Celebration event in March. All winners will be expected to provide a biography and photograph.
Winners will be notified via email and will be announced on KANITA's website by the end of December 2020.
KANITA has the right to publish any submitted poems elsewhere acknowledging the poet.
---------------------------------------------------------------------------------------------------------------


Peraturan: Umum
Pertandingan terbuka kepada semua pelajar USM.
Tarikh tutup pertandingan adalah jam 00.59, 10 Disember 2020.
Tidak ada had bilangan penyertaan yang boleh dibuat oleh setiap peserta. Semua penyertaan akan dipertimbangkan tanpa nama oleh juri.
Penyertaan tidak akan dikembalikan, jadi sila simpan salinannya.
Peserta tidak boleh mengubah puisi setelah di hantar.
Emel pengesahan penghantaran karya akan diberikan setelah penghantaran dibuat.
Penganjur pertandingan berhak menukar panel juri tanpa notis dan tidak memberikan hadiah sekiranya, menurut pendapat hakim, tindakan seperti itu dibenarkan.
Keputusan hakim adalah muktamad setelah semua hasil karya dinilai; KANITA tidak akan terlibat dalam urusan pemarkahan.
Peraturan: Puisi
Semua entri dinilai tanpa nama dan nama penulis tidak boleh tertera pada puisi itu sendiri.
Semua puisi mesti mempunyai tajuk dan panjangnya tidak boleh melibihi 40 baris (tidak termasuk tajuk). Penyertaan mesti mematuhi tema iaitu:

Menamatkan Keganasan Terhadap Wanita dan Gadis
Keganasan Bukan Budaya Kita
Pandemik Bayangan: Keganasan Terhadap Wanita semasa COVID-19

Penulis hendaklah menghantar penyertaan beserta nama, nombor telefon dan no matrik.
Puisi mestilah karya asli peserta.
Penyertaan tidak boleh diterbitkan, sendiri, di laman web atau disiarkan di media sosial, disiarkan atau dipaparkan dalam kalangan pemenang dalam pertandingan lain.
Penyertaan boleh dibuat dalam Bahasa Melayu atau Bahasa Inggeris.
Peraturan: Pemenang
Pemenang hadiah akan diberitahu pada akhir Disember 2020 dan dijemput ke acara Sambutan Hari Wanita Antarabangsa 2021 KANITA pada bulan Mac. Semua pemenang diharapkan dapat memberikan biografi dan gambar masing-masing.
Pemenang akan diberitahu melalui emel dan akan diumumkan di laman web KANITA pada akhir Disember 2020.
Karya anda milik KANITA. KANITA berhak keatas karya tersebut untuk menerbitkan puisi yang dihantar ke tempat lain.