memorandum of agreement (moa) signing ceremony between usm and tt vision technologies sdn bhd
Penang, 27 August 2019 - A Memorandum of Agreement has been signed with TT-Vision Technologies Sdn. Bhd to further develop our partnership and develop mutual collaboration on computer imaging research.
This agreement is a significant milestone in our ongoing collaboration with TT-Vision Sdn. Bhd., dating back in 2007 following the visit by its director Mr. Goon Koon Yin to the School of Electrical and Electronic Engineering (EE). This School has produced thousands of graduates who have become successful entrepreneurs and businessman. Mr. Goon Koon Yin is definitely one of them having graduated with Bachelor degree in Electrical Engineering in 1994.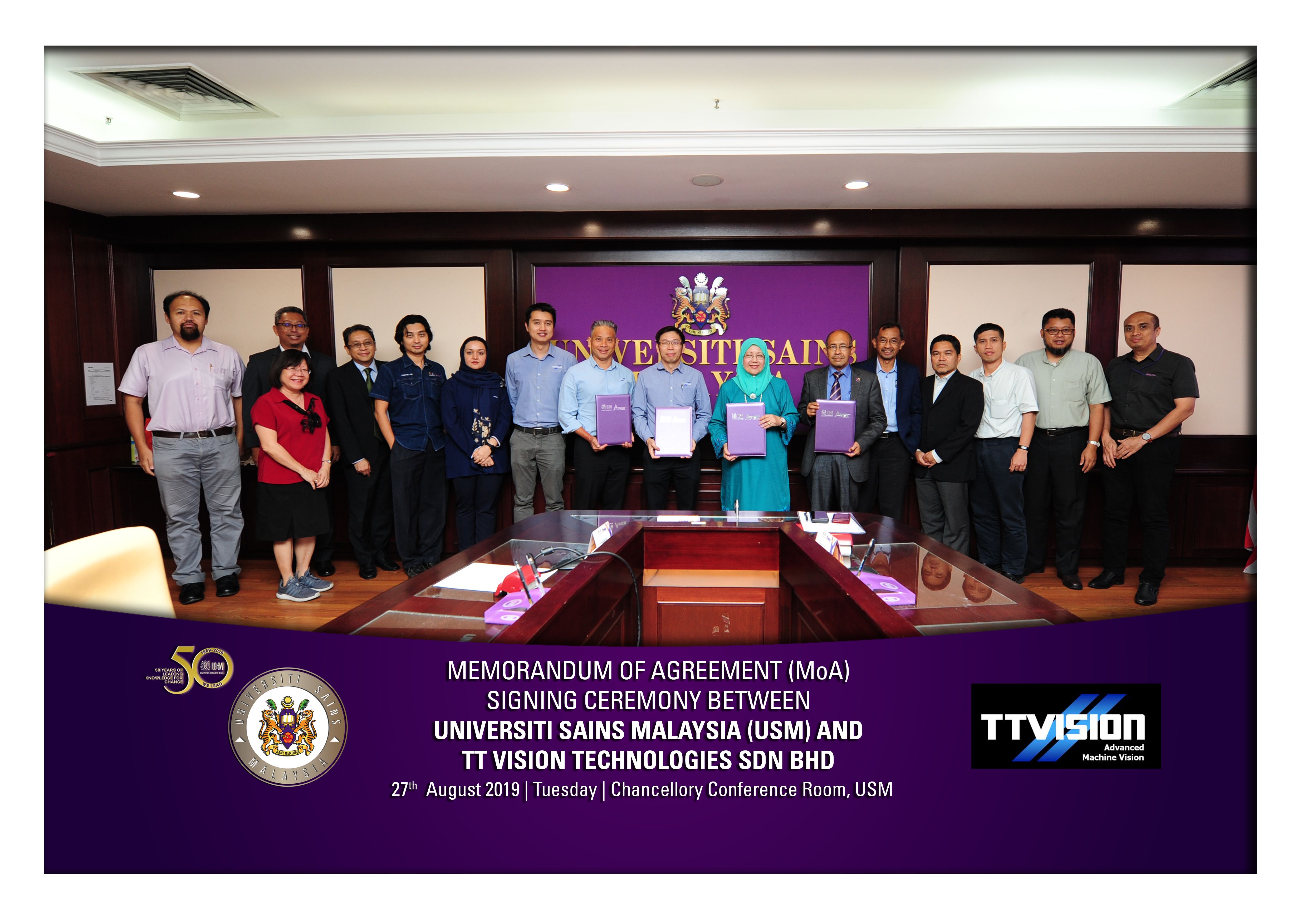 As he was busy developing his business and in light of the increasing competition at local as well as international fronts, Mr. Goon decided to turn to his alma-mater, particularly EE in seeking the cutting-edge research with an intention to accelerate the development and deployment of the state-of-the-art technologies into commercialised products. In particular his company is interested in computer imaging research which happens to be one of the niche areas of EE.
As a result of this visit and the subsequent round table discussion meetings, the first Collaboration of Agreement was signed between USM and TT-Vision in 2011. The aim was to jointly develop a novel imaging system for micro-crack inspection of solar wafers and  solar cells. This collaboration has allowed researchers from EE to test their ideas and research findings in actual industrial set-up; gaining access to empirical data from industry, and ultimately transforming results into viable products and services.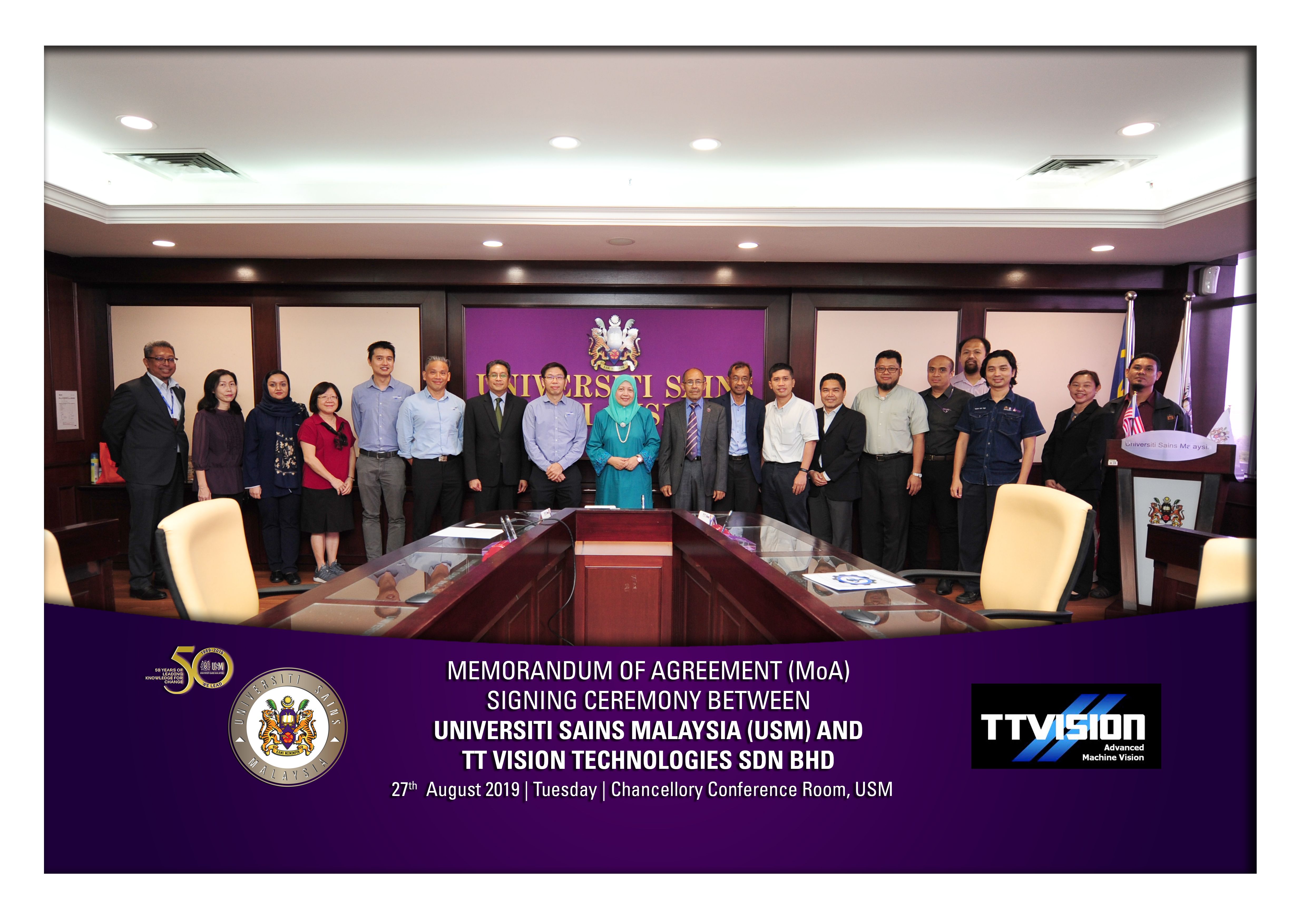 More importantly this collaboration has resulted in important scientific discoveries and several technological breakthroughs especially in the fields of machine learning and luminescence imaging.  Following this success a second agreement on Industrial Master/PhD Collaboration was signed in 2013. This agreement comprised of  Collaborative Research in Engineering, Science and Technology Centre (CREST) which had also partially funded the project.  
Following this research and motivated by the discovery of a new Intellectual Property (IP) on optical transflection and its potential in solving real industrial problems, USM and TT-Vision have today agreed to sign a third Memorandum of Agreement. The main objective of this agreement is to further develop the IP and transform it into a new commercial prototype. In this agreement TT-Vision will be providing  funding  with total amount of RM 204, 857 of which RM 104, 857 constitutes a direct funding  while the remaining  falls under contribution  in-kind. 
Additionally the company will also be providing facilities of infrastructure including hardware and software provisions available at their premises, and assign its senior engineers and scientists to co-mentor PhD candidates who will work together with professors and lecturers from EE.  In order promote this type of strategic partnership USM will match TT-Vision by providing funding of up to RM 50,000 under the matching grant category.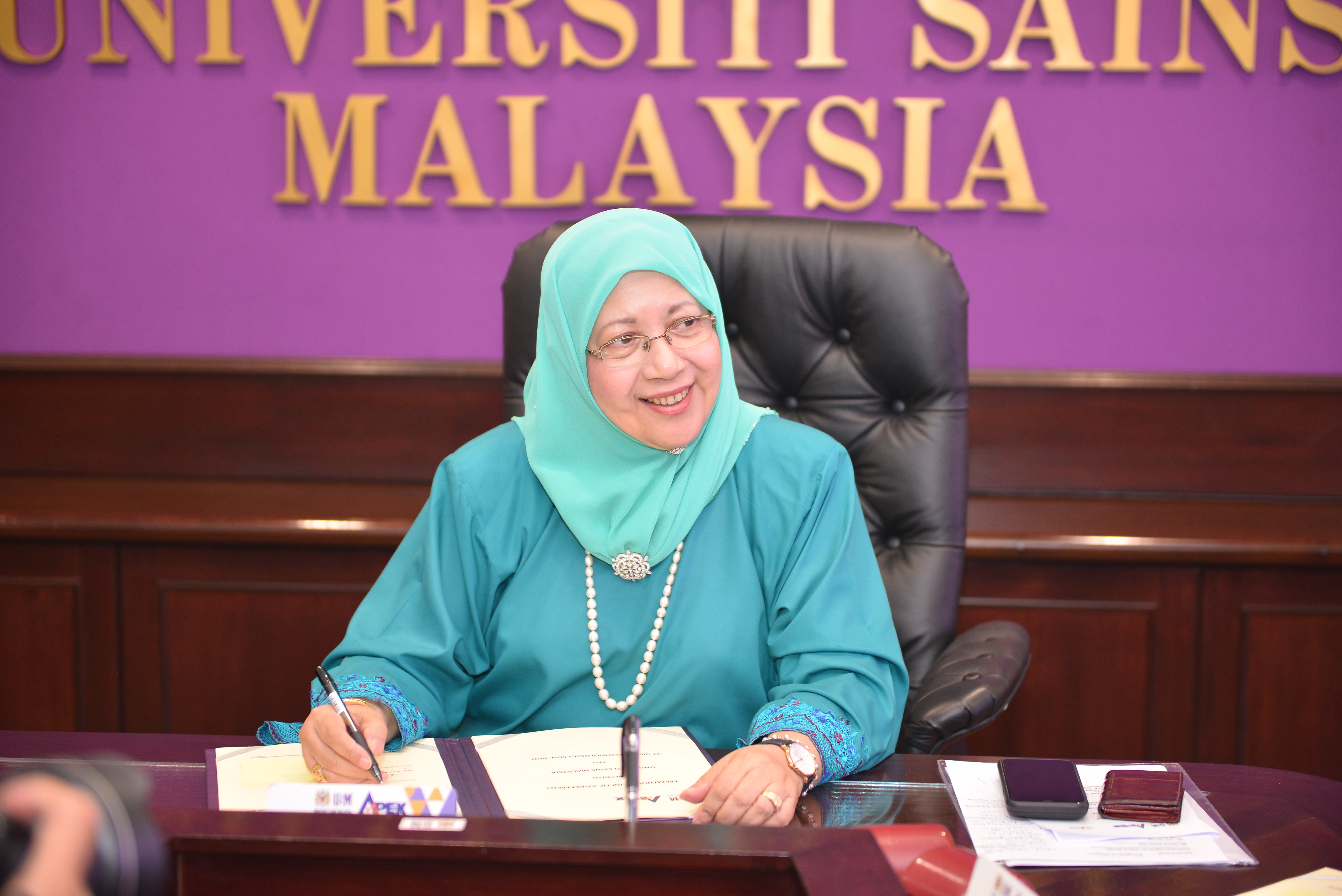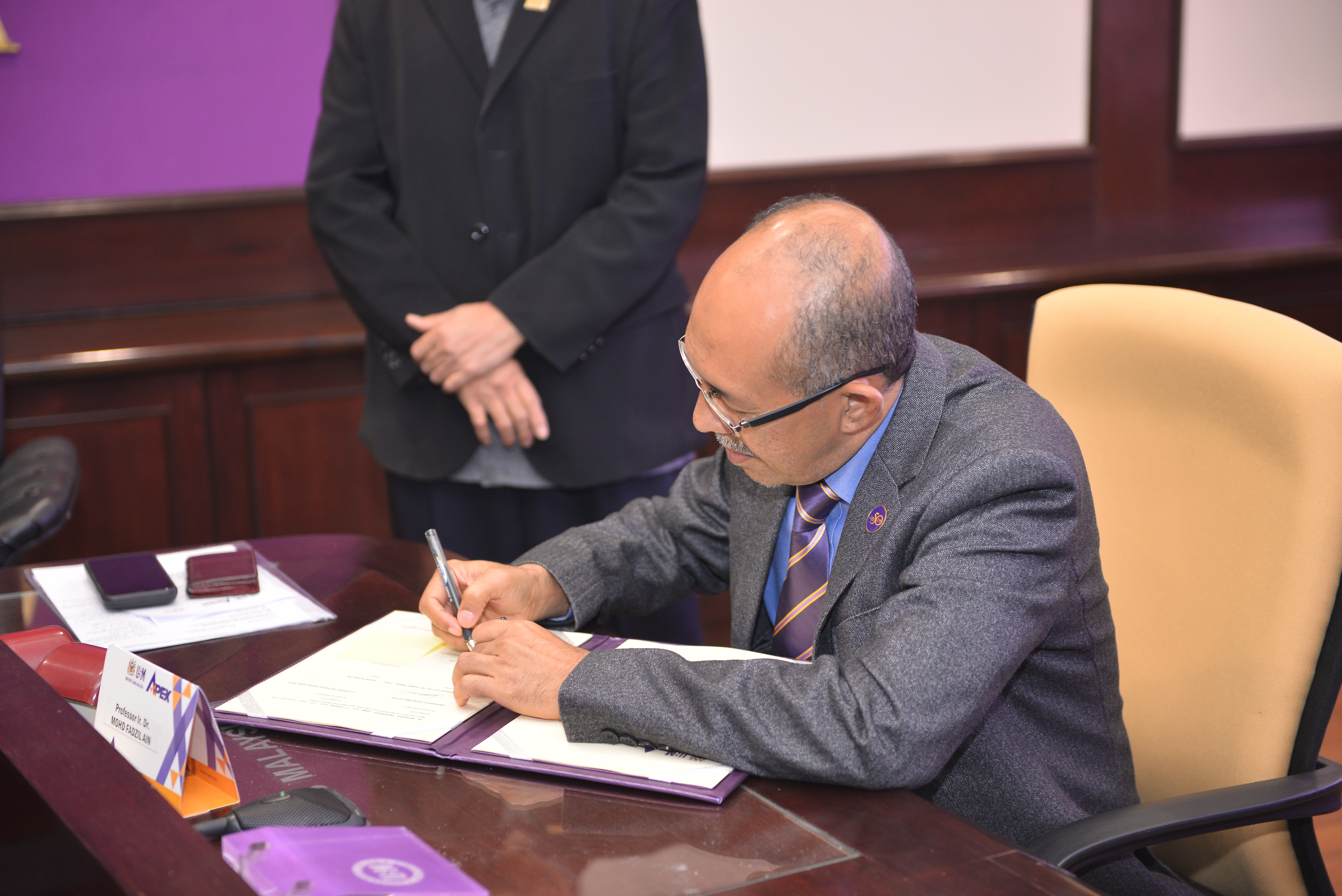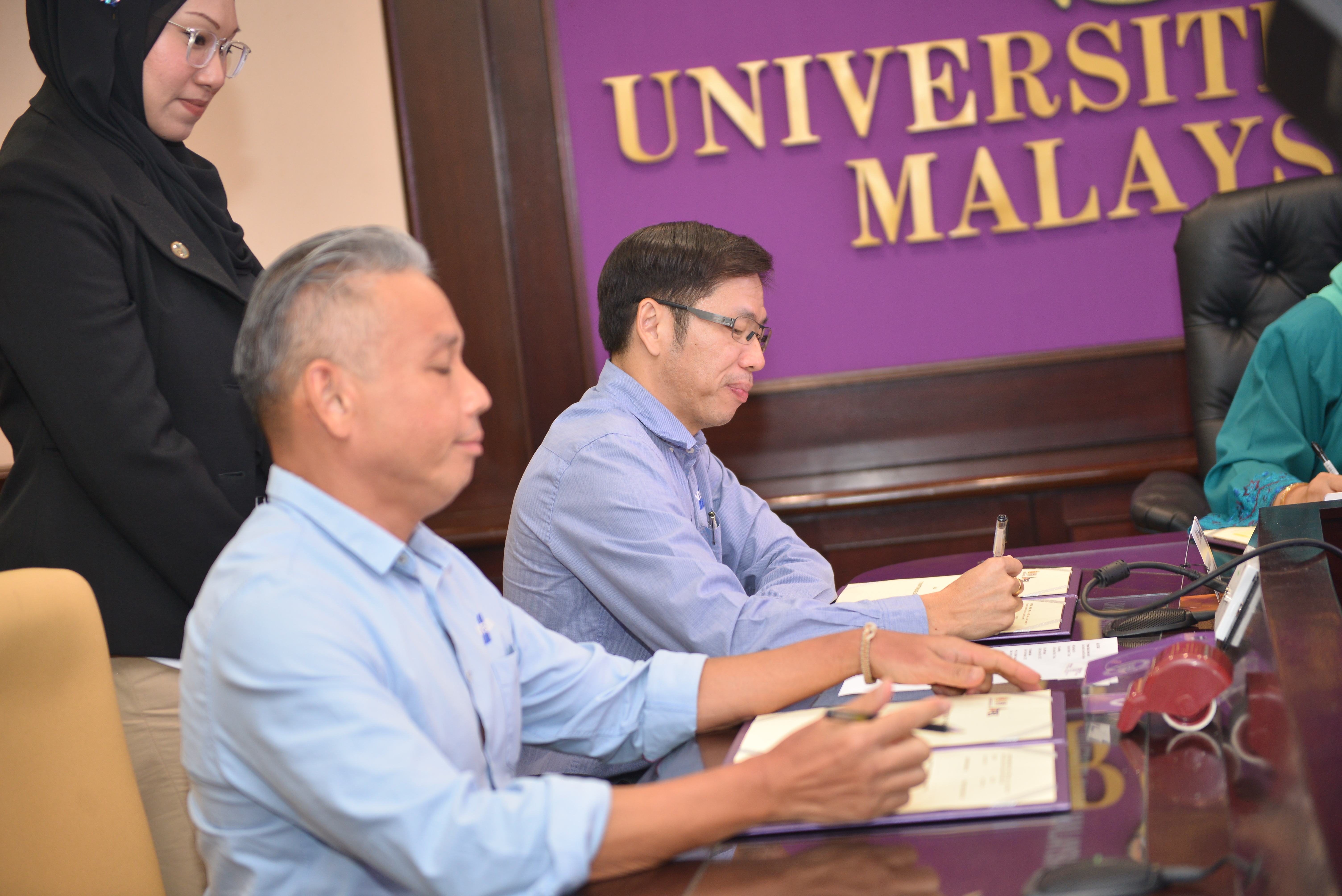 Text: Professor Dr. Mohd Zaid Abdullah
Photo: Mr. Ebrahim Abdul Manan (MPRC)