Innovate Malaysia Design Competition 2022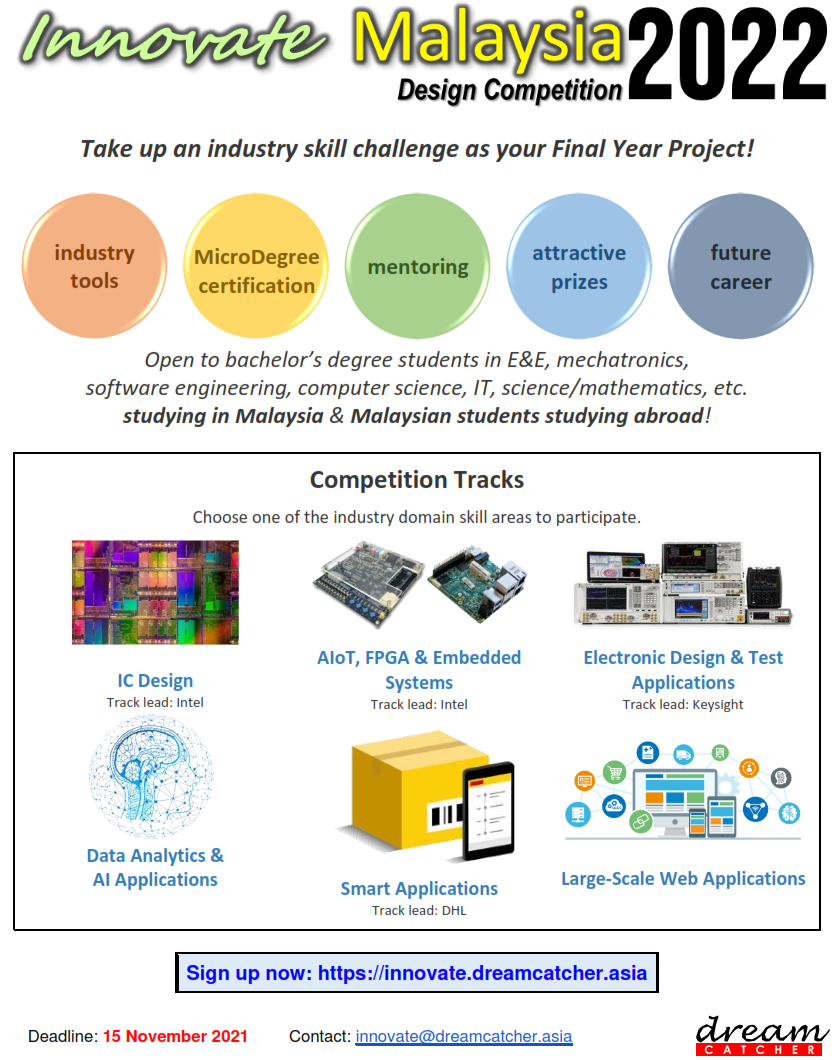 Hi all,
Innovate Malaysia Design Competition is the largest design competition in Malaysia, open to all third year or final year degree engineering, computer science, IT, and science/mathematics students. The goal of the competition is to promote innovative culture in engineering design work, tackle real-world problems with practical engineering solutions, and churn out brightest talents for product development, further research, and commercialization.
By joining the competition, participants will also earn a DreamCatcher MicroDegree (micro-credential certification) after undergoing a blended learning training program on industry-recognized skills and domain knowledge of the competition track joined and completing the competition project. This will equip participants with industry-recognized experiences valuable for their future careers. The competition tracks offered encompasses various industry domains from IC design, embedded systems, electronic design & test, data analytics & AI, smart applications to large-scale web applications. The competition has become a platform to groom and acquire engineering talents, promote the adoption of industry platforms in the universities, and align engineering solutions to real-world problems.
Among the benefits participating students will get:
obtain MicroDegree (micro-credential) certification on industry desired & recognized skills.
supplied state-of-the-art industry hardware and software tools
receive project mentorship from industry experts
gain exposure to real-world problem
priority access to high-value jobs offered by participating companies
win attractive prizes
Details of the competition can be found from the website below:
https://innovate.dreamcatcher.asia
The registration deadline is on 15 November. Act now to participate!