USM-MICRON YOUNG WISE- PYTHON ONLINE WORKSHOP, 5TH & 12TH MARCH 2022
We are happy to announce another exciting program of USM-MICRON Young WISE organized by School of Electrical and Electronic, USM supported by Micron.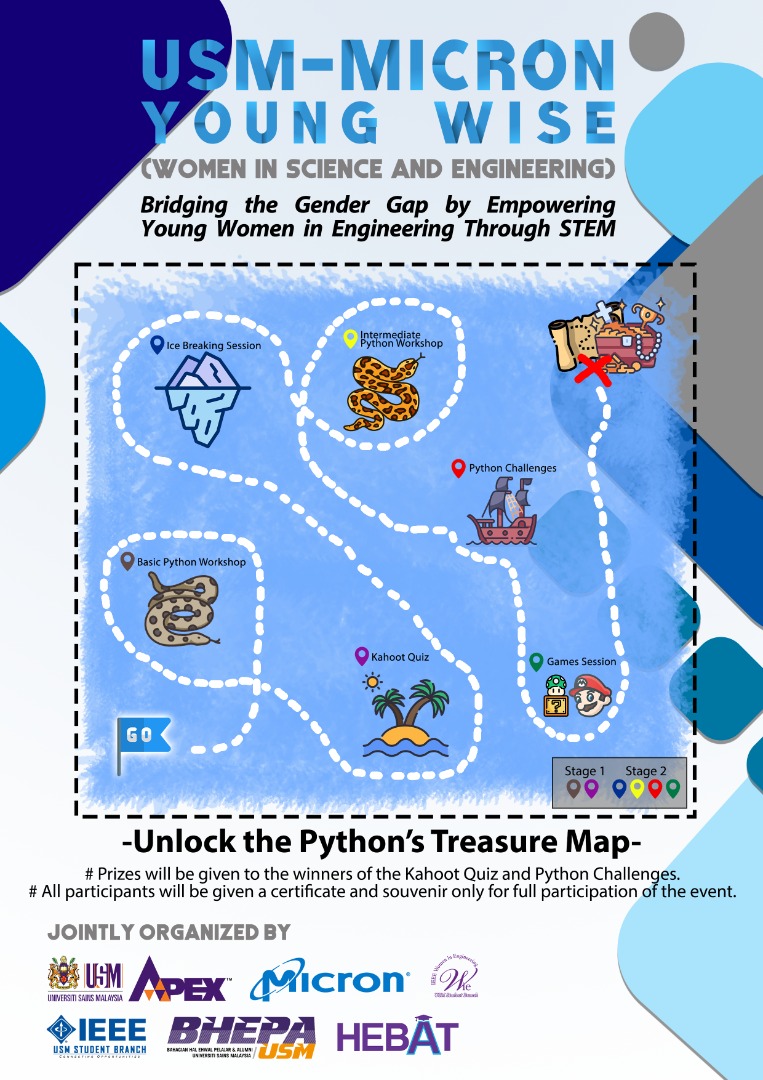 This series of online workshop is a part of USM-MICRON Young WISE (Women In Science & Engineering) Program. Python programming language can be used in data analytics, data visualization, web development and game development. Besides, Python is also used to build simple projects such as guessing game, calculator, or alarm clock. Upper secondary students with basic knowledge will be able to learn Python coding in an interesting way and challenge their abilities during hands-on sessions.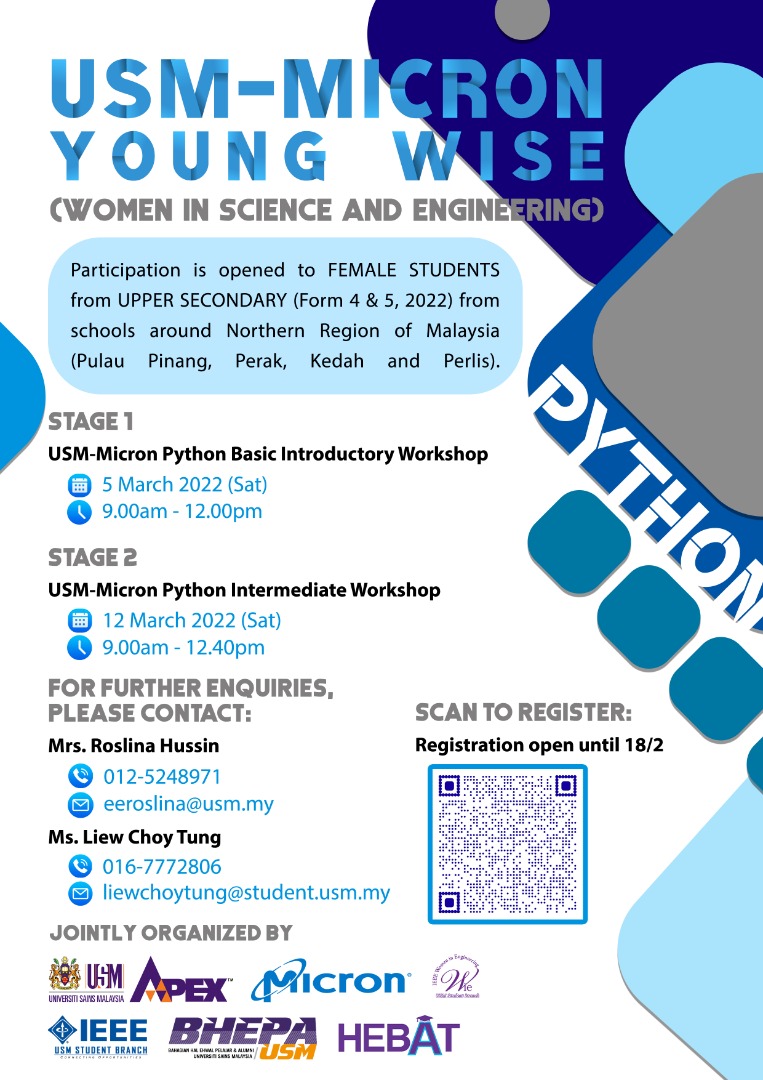 PROGRAM DETAILS:
1. The registration is open for FEMALE STUDENTS FROM UPPER SECONDARY (FORM 4 & FORM 5, 2022) from schools around Northern Region of Malaysia- Pulau Pinang, Perak, Kedah and Perlis.
2. There are two stages of workshop:
a. USM - MICRON Python - Basic Introductory, 5th March 2022, 9 am - 12 pm
b. USM- MICRON Python- Intermediate Level, 12th March 2022, 9 am - 12.40 pm
3. The registration is based on first come first serve since the number of participants are limited.
4. The deadline for the registration is 18th February 2022.
Kindly register via this link:
https://bit.ly/3KDOqGo
For any inquiries, please contact:
1. Mrs Roslina Hussin, +6012-5248971, Email add: Alamat emel ini dilindungi dari Spambot. Anda perlu hidupkan JavaScript untuk melihatnya.
2. Miss Liew Choy Tung , +6016-777 2806, Email add: Alamat emel ini dilindungi dari Spambot. Anda perlu hidupkan JavaScript untuk melihatnya.
"Bridging the Gender Gap by Empowering Young Women in Engineering Through STEM"
Please refer the current update of the workshop in the official Facebook page of USM-MICRON Young WISE.
https://m.facebook.com/USMMICRONYoungWISE