KAD PRIHATIN SISWA UNIVERSITI SAINS MALAYSIA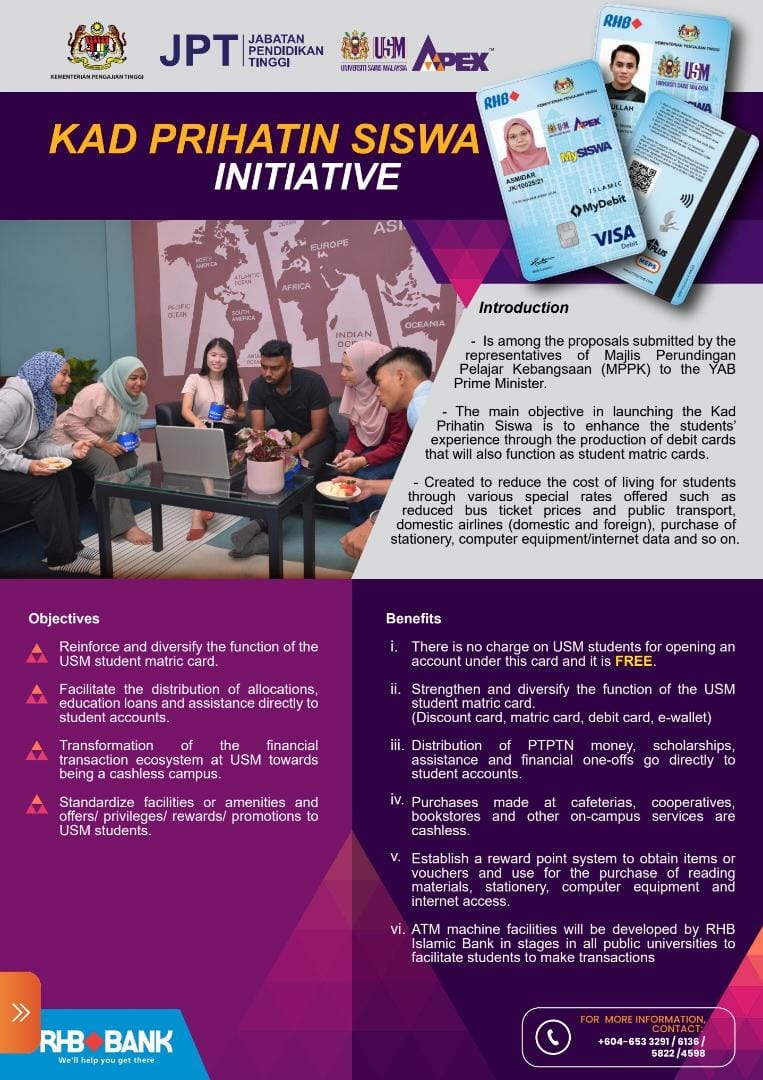 Kad Prihatin Siswa (KPS) is a student's matric card that links the student's identity card with the RHB Islamic Bank debit card.
The consent form for the opening of an RHB account may be obtained through Campus Online beginning 21 June 2022 at 11am until 6 July 2022.
All students with an active status (Undergraduate & Postgraduate), Malaysian and International , are required to update their student information through the link on Campus Online for the consent on the opening of an RHB Account. Card activation will be done at the respective campuses. Students will not be required to go to any RHB branch.
For further information, students may contact the Student Development Affairs and Alumni Division at the respective campuses.
BHEPA Main Campus : Alamat emel ini dilindungi dari Spambot. Anda perlu hidupkan JavaScript untuk melihatnya. / 04-6533107
BHEPA Engineering Campus : Alamat emel ini dilindungi dari Spambot. Anda perlu hidupkan JavaScript untuk melihatnya. / 04-5995535
BHEPA Health Campus : Alamat emel ini dilindungi dari Spambot. Anda perlu hidupkan JavaScript untuk melihatnya. / 09-7671310